Revolutionising the world of digital travel and expense management, using intelligent technology to provide freedom and choice within flexible limits.

Founded in 2007, Serko is one of the leaders in travel and expense technology, with a global technology, operations and service infrastructure supporting customers in more than 35 countries.
Zeno fundamentally transforms the world of online travel and expense management, providing the control that travel managers need with an easy interface that travellers love.
A next generation app that uses intelligent technology, predictive workflows and a global travel marketplace to create a brave new world of business travel. It takes the pain out of expense management and arms CFOs with tools to prevent expense claim fraud, dramatically streamline the expense administration function and gain unparalleled visibility and control.
ZENO is built to solve travel manager challenges
YOU CAN'T CONTROL WHAT YOU CAN'T SEE…
Zeno provides visibility of corporate spend across all categories, with a centralised travel marketplace connecting travellers with preferred vendors from pick-up to drop-off. Actionable insight highlights potential lost savings and drives best fare selection during the booking process, not after.
Drive compliance through high user adoption across all phases of travel with business protocols invisibly applied to allow freedom within your company policy. Travel policies and approval workflows are seamlessly integrated to make the end-end-to-end  process frictionless.
A JAW-DROPPINGLY SIMPLE TOOL…
Zeno's beautiful, easy-to-use interface takes the work out of corporate travel with self-service capability to reduce business administration costs.
PERSONALISED ITINERARIES…
Zeno learns traveller preferences and recommends itineraries that are tailored to them. From airline seats to hotels and ground transport options – Zeno is always in step with the traveller's needs; driving adoption and reducing out of policy bookings.
FRICTIONLESS APPROVAL WORKFLOWS
Streamlining travel planning and right to travel approval workflows, Zeno eliminates the need for email approvals, signicantly reducing the travel-relatedadministration overhead and ensuring every trip is in line with budget.
Integrated approval workflows, intelligent shortlist options, and access to negotiated rates encourage best rate buying and policy adherence to drive down total travel program spend.
YOUR TRAVEL SUPPLIERS IN ONE PLACE…
Zeno keeps travellers connected with your suppliers from pick-up to drop-off. Travel program managers can customise the marketplace to preferred vendors in each category, making life on the road easier for travellers and maximising corporate negotiated rate value.
Supporting domestic and international itineraries, Zeno gives travellers the flexibility to find the right airline, fare and extras to suit their  references – all within the boundaries of your travel policy of course.
All the major rental car providers can be booked through Zeno, with preferred options based on your corporate travel policy and traveller preferences.
Find the perfect room for your travellers and your travel policy, with access to around 2 million hotel rooms that can be filtered by price, rating, location or brand. Your own corporate negotiated rates can be compared against other supplier rates to ensure you get the best rate of the day on every search, with access to additional availability when your preferred rate is sold out.
Allows users to make bookings online and crucially, will give you access to expert TMC agent support if you encounter any travel
problems
Access online to major Airlines, Hotel Suppliers, and Car Rental Companies, and the best available discounted and corporate rates.
Opt-in ability to leverage on Serko's branded Expedia, Wotif and booking.com dynamic rates providing greater regional hotel content.
Various product setup options to tailor Serko to you – Many very configurable settings to give you the best workflow for your business
Integration Option to Serko Expense
SERKO ZENO ALLOWS ACCESS TO ALL OF SERKO'S PREMIUM FEATURES, SUCH AS…
mobile integration,
pre-trip approval workflow,
post ticketing changes,
powerful self-policy management,
unique mass booking functionality,
ability to capture,
manage and re-claim unused tickets post ticketing,
multi-tier approvals,
single sign-on features,
integration with ERP and EMS systems, including Serko Expense and many more
Your personal travel concierge…
Mobile app gives you the ability to make bookings from wherever you are and you will have the latest flight information for your booking, right at your fingertips.
Travelling with HWBT Mobile is like having a travel agent, a PA and a tour guide in your  pocket – everything a business traveller needs to make travel easier so they can focus on what really matters.
WITH HWBT MOBILE APP YOU CAN…
Book AU/NZ domestic and trans- Tasman flights and hotels direct from the app
Change or cancel bookings before and/or during a trip*
View complete travel itineraries offline or online
Request Specific Seats for supported Airlines
Check-in on mobile for Air NZ, Qantas, Virgin Australia and Jetstar flights
Get GPS linked airport travel time alerts
Receive flight delay and Cancellation alerts
Capture and submit expense items online or offline
Weather and City Safe Information, + Maps & Directions
Track your checked luggage with integrated Bag Locator technology
Contact your Travel Management Company (TMC)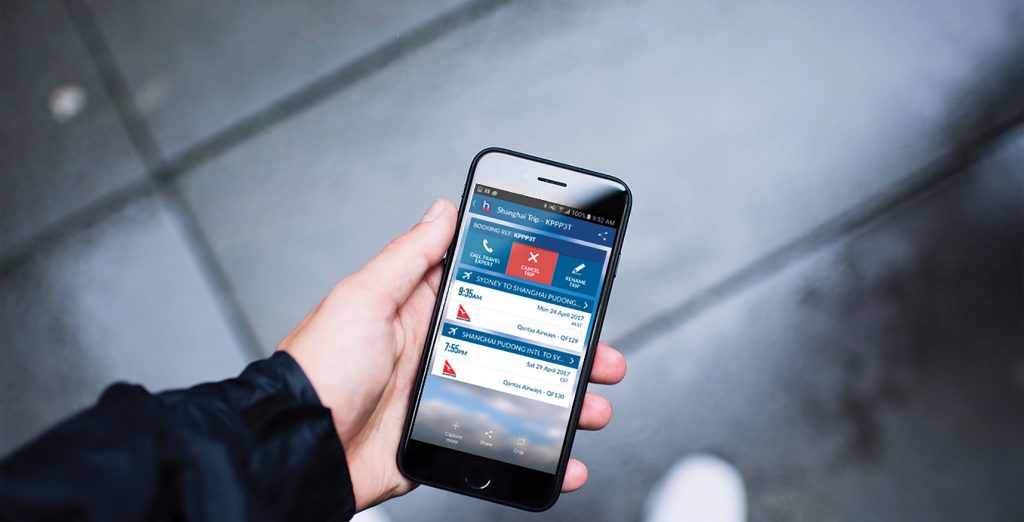 The advanced expense management solution…
Serko Expense arms finance teams with intelligent technology to automate and dramatically streamline the expense administration function, identifying out of policy claims and preventing expense claim fraud.
Serko Expense is an efficient, automated expense tool, integrating into your accounting software, ensuring compliance to policy, saving time and money, and given detailed reporting.
Corporate card transactions are pulled in from your nominated bank or financial institution and matched automatically with the correct receipt, so reconciliation becomes an always-on process that's all done in a couple of minutes. Say goodbye to the monthly expense claim grind. Employees capture
receipts via the mobile app, or email receipts directly to Serko Expense, add a description or cost centre if needed and submit for approval there and then.
Travel Analytics is the leader in the development of corporate travel reporting solutions.
Everything you need out of the box...
Organisations simply love Travel Analytics informative and user friendly dashboards which deliver accurate insights into the performance of their travel program; Travel Analytics will meet and exceed your expectations.
Most organisations want to know how effective their policies really are. All of our reports include details of non-compliant bookings, including traveller names, traveller selections and fare comparisons. And that's just the start. We also provide the ability to track non-preferred travel expenditure and changes
to bookings.
MANAGE TRAVEL EXPENDITURE…
Travel Analytics provides the information you need to track and manage your expenditure.
Summary reports of airfares, accommodation, rental car, transaction fees, ancillary and traveller expenditure are standard reports within the application. In addition, there are a host of other reports and metrics provided that
give you the information you need to manage your expenditure.
Want your team to be more productive? We provide the ability to download professionally
formatted review documents in a matter of seconds. With the click of a mouse, users can download raw data, including customer driven reference fields for all expense categories. This makes it simple for users to access data for
further interrogation.